Enter your information and I'll get right back to you with a free home estimate.
check
Sent
What's my home worth?
Enter your information and I'll get right back to you with a free home estimate.
check
Sent
Terri Gold
Wallace Real Estate
Why Buying a Home Makes More Sense Than Renting Today
May 02, 2023
---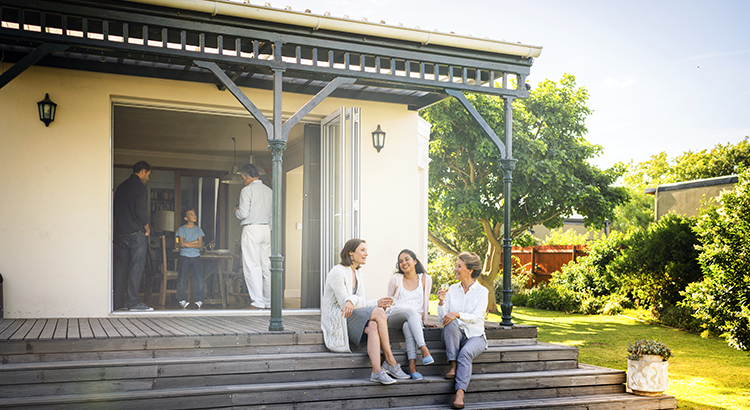 Wondering if you should continue renting or if you should buy a home this year? If so, consider this. Rental affordability is still a challenge and has been for years. That's because, historically, rents trend up over time. Data from the Census shows rents have been climbing pretty steadily since 1988.
And, data from the latest rental report from Realtor.com shows rents continue to grow today, even though it's at a slower pace than we saw at the height of the pandemic:
"In March 2023, the U.S. rental market experienced single-digit growth for the eighth month in a row . . . The median asking rent was $1,732, up by $15 from last month and down by $32 from the peak but is still $354 (25.7%) higher than the same time in 2019 (pre-pandemic)."
With rents much higher now than they were in more normal, pre-pandemic years, owning your home may be a better option, especially if the long-term trend of rents increasing each year continues. In contrast, homeowners with a fixed-rate mortgage can lock in a monthly mortgage payment for the duration of their loan (typically 15-30 years).
Owning a Home Could Be More Affordable if You Need More Space
The graph below uses national data on the median rental payment from Realtor.com and median mortgage payment from the National Association of Realtors (NAR) to compare the two options. As the graph shows, depending on how much space you need, it's typically more affordable to own than to rent if you need two or more bedrooms: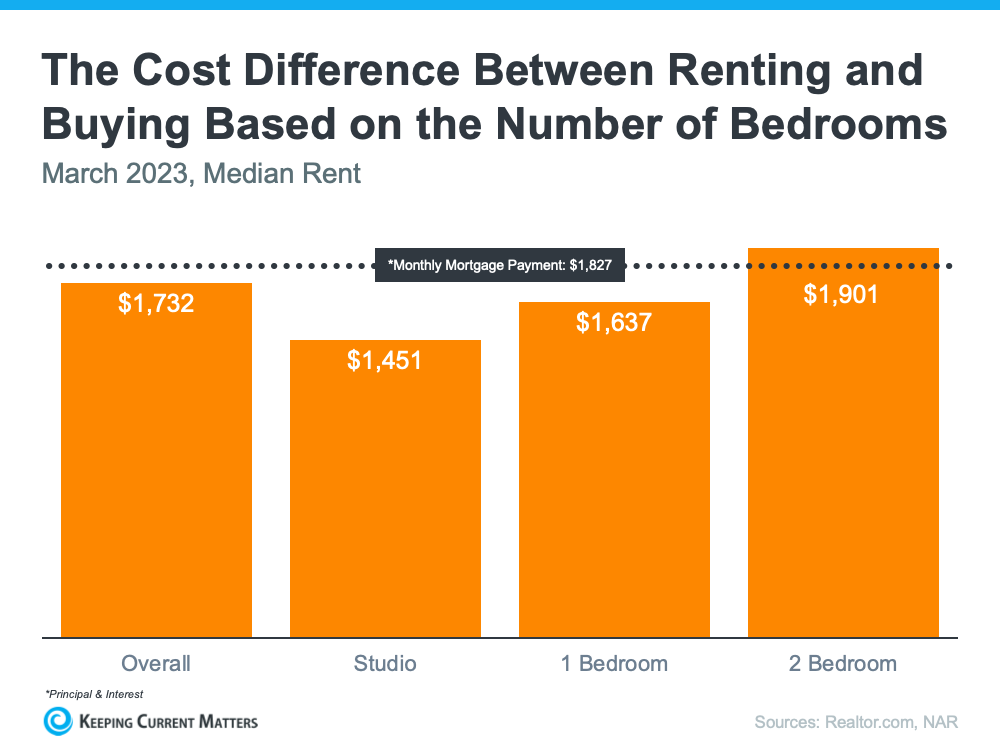 So, if you're looking to live somewhere where you have two or more bedrooms to accommodate your household, give you more breathing room to spread out your belongings, or dedicate the extra space to practice your hobbies, it might make sense to consider homeownership.
Homeownership Allows You To Start Building Equity
In addition to shielding you from rising rents and being more affordable when you need more space, owning your home also allows you to start building your own equity, which in turn grows your net worth.
And, as home values typically rise over time and you pay off your mortgage, you build equity. That equity can set you up for success later on because you can use it to help fuel a move to an even bigger space down the line. That's why, according to Zonda, the top reason millennial homeowners bought their home over the past year was to build their own equity instead of someone else's.
Bottom Line
If you're trying to decide whether to buy a home or continue renting, work with a trusted real estate agent to explore your options. With rents rising, it may make more sense to pursue your dream of homeownership.
---
Tags:
Featured Listings
Gorgeous NEW CONSTRUCTION in the heart of Farragut! This upscale 2 story basement home features an open design with timeless style. Vaulted ceilings & Master on Main w/ walk-in shower, soaking tub, and his/hers WIC, 4 bedrooms w/ WIC plus bonus room..
A One of a Kind, Once in a Lifetime home. This hand hewn and self-built house is a work of art and a masterpiece of craftsmanship. Over 27 years, the builder, who was a Broadway and Clarence Brown Theater designer, handcrafted this hardwood Posts...
LISTING AGENT IS OWNER/SELLER Gorgeous Farragut brick home on Cul-De-Sac that overlooks the 14th fairway of the Fox Den Golf Course. AquaGuard flooring throughout the first floor. Separate staircase leads to the bonus room/5th bedroom...
Don't miss this opportunity to make this gorgeous two story basement, located in Farragut with an amazing open floor plan yours! Zoned for Farragut schools. Main level includes hardwood floors throughout, master bedroom with custom shelving...